Members, customers and staff of Lakes & Dales Co-operative, Scotmid, Semichem and Scotmid Funerals  have together helped to raise a phenomenal £325,000 for the Scottish SCPA, RSPCA and USPCA as part of the community retailer's charity partnership.
The funds for Scotland's longest-standing animal welfare charity, will directly support the Scottish SPCA in educating the next generation of animal lovers through its 'Prevention Through Education' Programme which is active in over 1,000 schools.
Through Scotmid's support, thousands of children are expected to learn about animal welfare through the 'Prevention Through Education' programme.
The year-long partnership saw staff from Scotmid's food stores, Semichem, Scotmid Funerals and Lakes & Dales stores in Scotland, Northern Ireland and northern England take on the task of raising funds by participating in a variety of activities ranging from sponsored walks to zip slides and raffles, whilst customers were able to purchase limited-edition Scottish SPCA glittery paw-print badges in stores.
Scotmid's support for the Scottish SPCA also extended to support the charity's first ever primary and secondary school film competition, providing awards for the winning schools and individuals.
The £325,000 total means Scotmid have now raised a staggering £2m for their last six charity partners since 2013.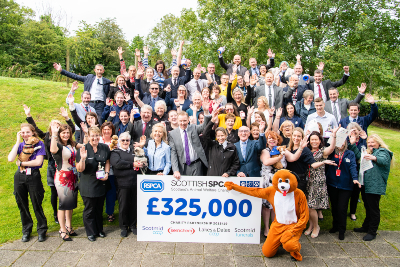 John Brodie, Scotmid's Chief Executive said: "Well done to all our staff, members and customers, who raised an extraordinary final total for the Scottish SPCA, RSPCA and USPCA.
"From day one of the partnership, the emphasis has been on fun and fundraising – something that everyone has really got behind.
"We've seen sponsored dog walks, race nights, cycle rides, abseils and zip slides and even seen staff have their hair shaved off all in aid of raising Pennies For Paws.
"The money raised from our partnership will go towards funding the education of primary schoolchildren about animal welfare – a really important subject and a lasting legacy to our friendship with the Scottish SPCA, RSPCA and USPCA.
"I'm also delighted that this year's achievement has taken us beyond the fundraising milestone of £2m over the past six years for our charity partners – it is a phenomenal achievement that everybody connected to Scotmid can be incredibly proud of."
Kirsteen Campbell, Chief Executive of the Scottish SPCA, said, "We are so grateful to everyone in the Scotmid Co-operative family for the most incredible year. This amazing amount has supported our free 'Prevention through Education' programme, enabling us to deliver interactive workshops to 1818 schools and 124 community groups. We reached over 211,400 pupils throughout the partnership, the majority of which were school children.
"We believe education is key to tackling animal cruelty. We teach children from a young age that animals have feelings. Our free interactive workshops tie in with the school's Curriculum for Excellence and are at the forefront of educational approaches. We do this by using robotics and interactive games as innovative tools for teaching animal welfare in the classroom. Our goal is to continue inspiring the next generation and encouraging empathetic and compassionate behaviour towards any animals they encounter.
"We are so thankful to each and every member of staff, members and customers at Scotmid Co-operative. Their backing has been incredible and has enabled us to engage children while exploring and introducing new ways to encourage positive behaviours. And we know through research that it's working.
"Scotmid have gone above and beyond to raise vital funds for us and have been enthusiastic and dedicated partners. The team have taken part in numerous events like the Aberdeen, Glasgow and Dundee Kiltwalks, our Mutt Strut events at Lochore Meadows and Strathclyde Country Park and Zip Slide the Clyde. There have been ultra and half marathons, sponsored head shaves, sales of our limited edition glitter paws and pens, volunteering at our animal rescue and rehoming centres and much more. All done in great spirit and with a lot of animal costumes!
"The funds and support from Scotmid has provided an invaluable contribution to the delivery of our education programme, improving the lives of animals and people both now and in the future. Thank you from the bottom of our hearts to everyone who has helped raise money over the last year, we could not be more thankful."