All you need to know
Community Connect is a major new initiative which enables Scotmid members living in the Lakes and Dales area to make a difference in their communities.
Community Connect is simple: Every time a Scotmid Co-operative Member living in the Lakes and Dales area shops in a Scotmid or Lakes and Dales store they can scan their Community Connect Card to receive one Community Connect vote.
Members then allocate their accumulated votes to decide how the funds are awarded. The funds of £5,000, £2,000 and £2,000 will be allocated based on the votes received from members.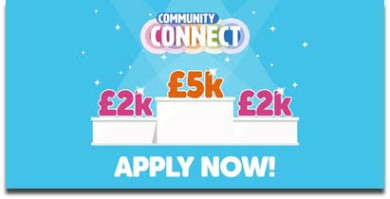 Applications are currently closed but will reopen early 2022! If you want to be kept up-to-date with funding news please contact membership@scotmid.co.uk
To find out more about Community Connect please use the links below.
I am a Scotmid Lake and Dales member
I am involved with a Good Cause Group
Scotmid's Community Connect Award is open to good cause groups and projects across Cumbria, Weardale and Northumberland.
For 160 years, Scotmid has worked hand in hand with the communities we serve – Community Connect exists alongside our Community Grant scheme which has distributed tens of thousands of pounds to small local groups, events and causes.