There are 54 Salvation Army clothes banks at Scotmid and Lakes & Dales Co-operative stores all over Scotland and in the North of England so it's easy to donate and recycle your old clothing and textiles.  When you do, the money raised will be split between the Salvation Army to continue its invaluable social welfare work and Scotmid and Lakes & Dales for investment into our communities!
At these banks, you can donate:
Shoes (in pairs)
Clothing
Handbags
Belts
Bed linens
Blankets
Towels
Underwear
Items should be clean and dry.  Don't worry if they're damaged because the textiles that can't be reused, even underwear, can be recycled into items such as mattress stuffing, car soundproofing and industrial wipers!
We've been overwhelmed by the money raised by these banks so far. Here is some information about a group who has benefited from funding.
Keswick in Bloom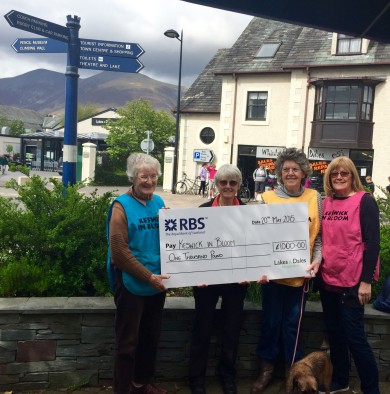 Our first grant in the Lakes and Dales area went to Keswick in Bloom, who were awarded £1000 to purchase materials and equipment for the upkeep of displays over the coming months.
Established in 1993 as a voluntary organisation, the group has taken responsibility for the planting and maintenance of various tubs, towers, mangers and beds around the town. Planting takes place twice a year to provide fresh displays for Spring and Summer.
Keswick in Bloom has over 20 regular volunteers who are mostly residents of Keswick, but also include regular visitors to the town who are happy to help. The group works closely with local schools and with staff at local parks, lending a hand with maintenance where required.
To apply for a Clothes Bank Grant, please drop us an email including 200-300 words about your project and what help is required. Don't forget to include your contact details so we can get back to you!