Community Connect is available to Scotmid Co-operative members living in the Lakes and Dales area – to find out how to become a member click here.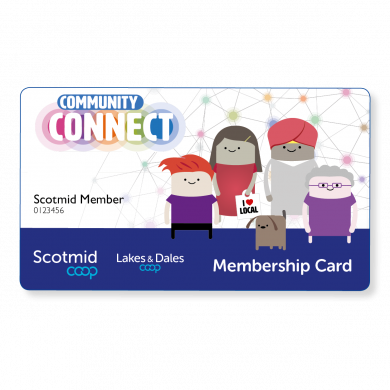 How does Community Connect work?
A Lakes and Dales member panel formed from elected members, ordinary members and employees will select a shortlist of three Good Cause – one from each of the geographical areas; Cumbria, Weardale and Northumberland. Members can then follow the steps below to collect votes and then cast those votes to award the three Good Cause Groups one of three financial amounts.

Scan and Collect:
Members receive one Community Connect vote for every transaction in Lakes and Dales stores*
There is no limit to how many votes members can collect
Members can see their votes at any time by looking at the bottom of the till receipt
There are two vote collection cycles each year which run from May to September and October to April
How to Vote
Scotmid members living in the Lakes and Dales area have been issued with a Community Connect Membership Card.  This card should be presented at the till each time you shop.  This card replaces any card previously issued by Penrith Cooperative Society.
You can allocate your votes  to your favourite group at any time right up until the closing date – simply scan your card at a manned till and tell our store colleague who you would like to vote for.  This is confirmed on your till receipt.
With each shop, a vote is collected. These votes continue to accumulate during the six month cycle and there are two collecting cycles each year, culminating in the allocation of either £5,000, £2,000 or £2,000 to three local Good Cause groups.
All votes whether they have been cast or not will be zeroed at the end of the collection period and all members will begin with 0 votes.
There are two ways to cast accumulated Community Connect Vote; either in a Lakes and Dales Store during the voting window or at the Member Community Information Evening
In a Lakes and Dales Store
You can allocate your votes at any time during the six month cycle.
To cast your votes for one of the Good Cause groups, members simply go to a manned checkout and inform the checkout operator who they would like to vote for
Leaflets providing details of the three shortlisted groups in your specific region will be available in store, or you can visit our website to find out more information.
Members do not need to purchase an item to allocate their votes but do need to present their Community Connect card
When a member votes in-store all of the Community Connect votes that they collect up to the end of the current collection cycle are assigned to the group they voted for
Members can change their mind about which group they vote for by scanning their card and voting again – the last vote registered on the till will be used to calculate the number of votes each good cause group has
The Good Cause Group that the member has voted for will be displayed on the till receipt
All of a members votes must be cast for one group – votes cannot be split
Members who cast their votes in-store and then attend the meeting cannot re-use their accumulated votes however they will be given 15 bonus votes to cast at the meeting
All votes cast in store will be added to those cast at the relevant Member Community Information Event
Rewarding our Members
We want to reward Scotmid members and to say thank you to you for being a member.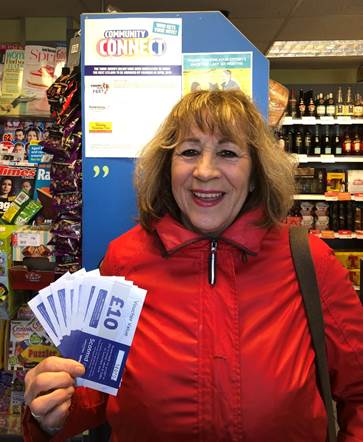 Monthly Prize Draw
Each time a member scans their Community Connect card in store they will be entered into the Community Connect prize draw to win either £100, £50 or £25 in Scotmid vouchers every month (click here to see previous winners)
Collect and Win
For every 25 votes a member collects you will receive a money off voucher at the till.  The voucher can be used against your next shop.
Where can I get more information? Contact the membership team by emailing membership@scotmid.co.uk or by calling 0131 335 4433. The full terms and conditions for Community Connect can be found here and the Monthly Prize Draw, Collect and Save and Instant Win  terms and conditions can be found here.
*PayPoint transactions will not generate a vote